Representative to Congress Ohio District 1
Kevin Kahn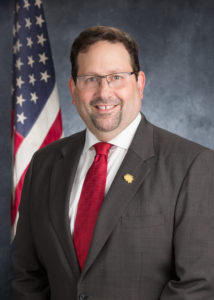 Kevin is an eight year LP member. He has been in the international business world for over 25 years, and has been an entrepreneur and business owner for the last 13 year. His company supports manufacturing jobs in the USA by exporting Made in USA industrial valves, pumps and fitting products, primarily into Asia. Through his work he intimately knows international economics, trade regulations, and the effects of tariffs and restrictions. In 2014, Kevin's company was awarded the SBA's Exporter of the Year award in Ohio. He has been on the Board of Directors at a public company, Treloar Manufacturing, which was listed on the ASX (Australian Stock Exchange). He has also been on the Boards of a couple of non-profit organizations including the Midwest USA – China Chamber of Commerce and the Sycamore High School Ice Hockey Association.
Educationally, Kevin has a Bachelors degree in International Politics & Economics from Middlebury College in Vermont, a Masters degree in International Studies from the Jackson School of International Studies at the University of Washington and an MBA from the Marshall School of Business at the University of Southern California. Through his education and business ventures, Kevin is also fluent in Mandarin Chinese.
Kevin is married to his wife Erdenetsetseg, who was born in the Gobi Desert region in Mongolia and they live Cincinnati with son Martin and daughter Skylar.
Find out more about Kevin at kahn4congress.com
Help Kevin and Candidates like him by donating at https://votefreeohio.com/donate/